Wed. April 8 at 7:00pm
Everybody's Coffee 935 W. Wilson Ave. Chicago, IL 60640
Free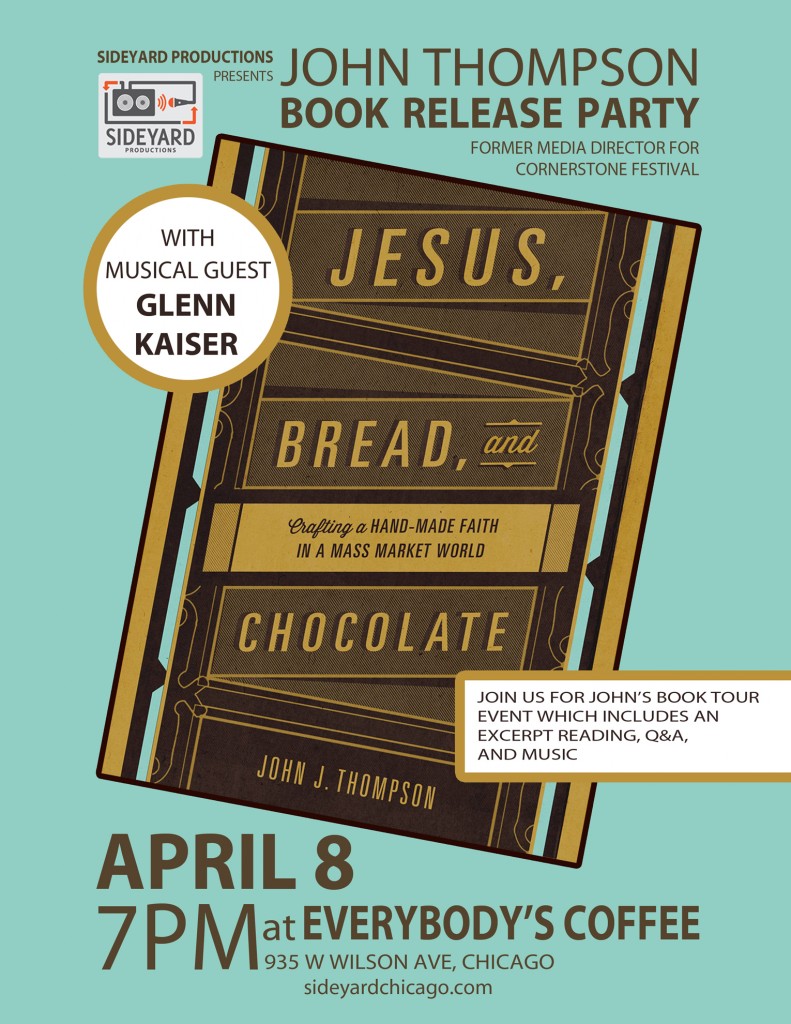 We know John from his years at True Tunes in Wheaton and Cornerstone Festival. He has continued in the music industry and has released a book titled Jesus, Bread, and Chocolate, in which he explores what it means to apply thought, care and meaning to our food creation and consumption, as well as our spirituality. We're pleased to welcome our friend as he introduces his book. Also, Glenn Kaiser will perform solo blues during the event!
Reviews: "Fresh and enlightening" -Phil Keaggy; "Important" -Doug Van Pelt
Bio: Throughout his sojourn in the music business Thompson built a solid reputation as a music critic and feature writer for many publications including CCM Magazine, HM Magazine, Christianity Today and Christian Musician. He  joined Capitol Christian Music Publishing in early 2007 (then known as EMI Christian Music Group) where he currently oversees a roster of Gospel songwriters (Andrae Crouch, Kirk Franklin, etc) and provides Music Supervision services for films, (including the 2013 Lionsgate movie Grace Unplugged.) He is currently a contributor of music and film reviews for www.ThinkChristian.net and is a regular speaker at colleges, churches, songwriting events and festivals on behalf of Compassion International. Although still a Chicagoan at heart Thompson loves the creative, independent spirit he has found in East Nashville, TN where he lives with his wife (Michelle Lynn Thompson) and four children.
Read his complete bio at 33andathird.net.
View the trailer for the book on YouTube.