Sat. Jan. 27, 2018 Doors 6:30pm Show 7:00pm
WIlson Abbey 939 W. Wilson Ave. Chicago, IL 60640
$10
Available at the Door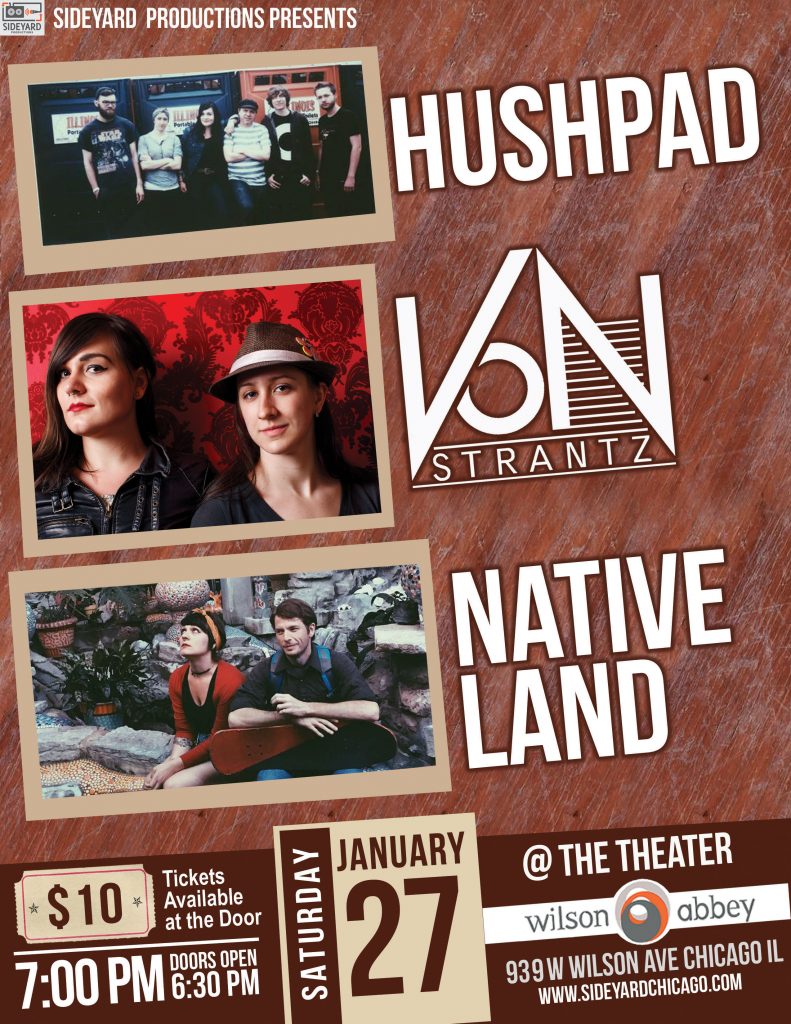 Wilson Abbey welcomes three bands!
Hushpad
"The long time recording project of Matthew Welchel and many of his friends and family. Beginning in the early 90's and evolving from a husband and wife duo to a full band and then into a werewolf." Intriguing!
Von Strantz
Always an amazing show! "Sisters estranged from birth with two different upbringings journey from across the continent and finally meet. They took their now known commonalities and in 2013 banded together taking their family last name Von Strantz and hence began creating music and art from life's adversities. Utilizing a variety of instruments such as violin, cello, keys, guitar and feet percussion, Von Strantz unites harmonies strung together by commanding and soulful lyrics. With story-sharing as their passion."
Native Land
"Native Land, musical nomadic husband & wife duo journey across the United States writing songs for the people that they meet along the way. With the heart of true punk rockers, Native Land pulls from their favorite songwriters like David Byrne with his quirky sounds and strange 80s beats and the soul of Sister Rosetta Tharp's guitar licks and gospel lyrics. Prepare your hearts for some gospel rock n'roll that has some spacey groove this husband wife duo bring good news to all who are weary."