Sunday, April 17 at 7:00 PM
Wilson Abbey 935 W. Wilson Ave. Chicago, IL 60640
Suggested Donation $2-$5
Available at the Door
Let's go to the punk rock show! Desiring Dead Flesh, October Bird of Death, and Leper will rock it in the Theater at Wilson Abbey. This is the first of the Catacombs concert series.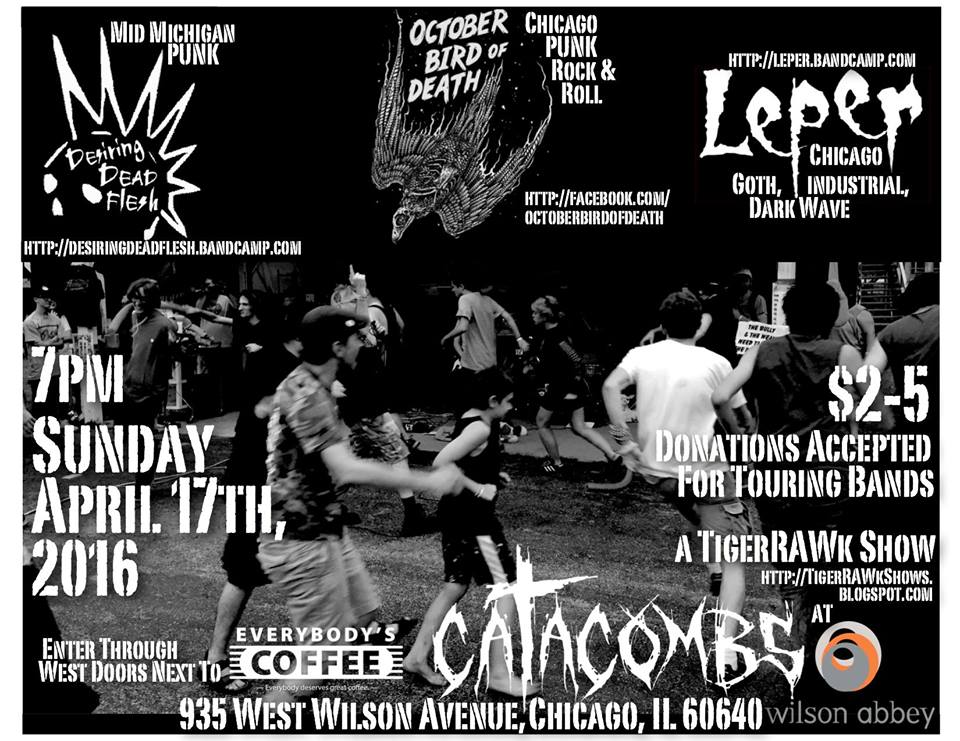 ABOUT DESIRING DEAD FLESH
Desiring Dead Flesh is a DIY punk band from Bay City Michigan formed in the summer of 2000. The current lineup includes frontman Bryan, his son Adam (age 15 – joined in 2009), his daughter Ravyn (age 13 – joined in 2013) and friend Matt (joined summer 2015).
Desiring Dead Flesh likes short, fast, energetic old school hardcore punk songs and singing about what they love and hate about the scene, family, faith, depression, society, with some humor thrown in. DDF likes everybody at the show to have fun with them – singing gang vocals, circle pits and releasing some pent up energy.
ABOUT OCTOBER BIRD OF DEATH
In a working class neighborhood on Chicago's near west side there sits an old, signless industrial building. It is a relic of another age. The guts of the building have been stripped away and rebuilt. But this was no condo renovation, the reconstruction was slapdash and spared every expense. Room after room of mismatched doors and unfinished paint jobs and yet it's perfectly suited for its current purpose. It houses practice rooms for a few dozen bands and, up some rickety stairs near the back dwells a new five-piece punk rock n' roll band.
Punk rock is not a common sound amid the swirl of music that echoes through the halls. But on certain nights, you may walk past a door where a group of friends who, like the building that surrounds them, are trying to add a new chapter to an old story. Drawing on their own history (Ballydowse, Headnoise, Brick Assassins, Vulture Circles Crow) and with reverence to those who built the foundation, they are trying to construct something that is uniquely their own. A sound that is grounded in old school punk but with modern twists and turns. The vocals are passionate and raw, grinding and soaring. Singing and shouting in equal turns with lyrics that reflect the blissful highs and crushing lows of lives lived on the margins. Lives struggling to remain true. It is their lives and it is bleeding through on every track…
Their room is merely rented and their name is not on the door, but if you pause outside for a moment, the sound cutting through the flimsy wall is unmistakeable… October Bird of Death.
ABOUT LEPER
Leper is the musical and artistic expression of Skot Shaw. Using hauntingly melodic vocals, brooding guitar, and programmed beats Leper orchestrates a compelling sound with elements of goth, industrial, dance and rock – all the while exuding the shadowy, emotional eeriness that defines a goth band. Leper's musical inspiration is drawn from sources ranging from Pink Floyd to The Choir, and lyrically Shaw creates a tapestry woven with the threads of despair, struggle and redemption.
REVIEWS
"[Beautiful Gray Day is an] enjoyable musical journey from dark alternative rock to an ambient industrial. Whether or not you describe yourself as 'goth,' Leper presents an almost friendly introduction to a mysterious, and often beautiful, artistic style." –Randy Streu, A Flame in the Dark
"With these small glimmers of hope amidst darkness, Shaw reminds us that hope is not lost." –Jonathan Nelson, HM Magazine
Leper Official Page
Leper Facebook
Enter through west doors next to Everybody's Coffee at Wilson Abbey